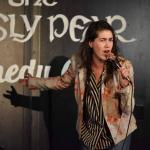 BUY TICKETS
Thursday May 30th 10:00PM
As seen on HBO's "Crashing," The Grisly Pear is one of the hottest up-and-coming comedy clubs in the city. With New York's biggest names and future stars appearing every night, the Pear is sure to bring you a great lineup of comics that you've seen on Comedy Central, Tru TV, and MTV.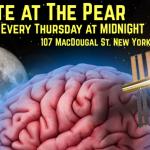 BUY TICKETS
Thursday May 30th 11:59PM
Late Nite at the Pear is unique in that it allows audience and comedians alike to debase themselves under the shroud of midnight in the warm arms of alcohol and laughter. Together, after midnight, we can share love, laughs, tears, and most importantly, alcohol, during a curated onslaught of some of the best up-and-coming talent in NYC.