Joe DeVito
A veteran of more than 100 TV and talk show appearances, comedian JOE DeVITO's dead-on timing, unexpected twists and sheer flights of lunacy make him a favorite at the top clubs in New York City and across the USA. His performance at the prestigious Just for Laughs Festival was rated "9.5 out of 10" by The Montreal Gazette. Joe's TV credits include two performances on The Late Late Show, three appearances on Comics Unleashed, two appearances on Gotham Comedy Live on AXS TV, Comedy Central, and a semi-finalist turn on NBC's Last Comic Standing. He is also a regular contributor on FOX News Channel's Red Eye and Kennedy Show, with other panel appearances including Chelsea Lately, CNN, Animal Planet, Discovery Channel, and truTV's The Smoking Gun Presents...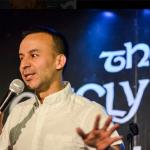 BUY TICKETS
Friday February 28th 08:00PM
As seen on HBO's "Crashing," The Grisly Pear is one of the hottest up-and-coming comedy clubs in the city. With New York's biggest names and future stars appearing every night, the Pear is sure to bring you a great lineup of comics that you've seen on Comedy Central, Tru TV, and MTV.
BUY TICKETS
Friday February 28th 10:00PM
Grisly Pear Comedy Club AKA The Dojo presents Comedy Showcase Night on the famous Macdougal Street. Every night has unique lineup of New York's hardworking premier comics and very special drop ins, as seen on Late Night, HBO, Comedy Central, MTV, NBC, and more!