Lee Valentin
Lee O. Valentin is a New York based Comedian, Network Engineer and a proud father of two. He has been featured in Stand Up New York's COMICS TO LOOK OUT FOR, written articles for ComedyHype and hosts and produces corporate and charity events throughout the tri-state area. Lee is the co-creator of Unusual Culprits and co-owner of a franchise, Hammer and Nails Grooming for Men.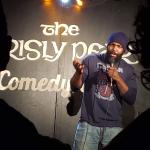 BUY TICKETS
Sunday February 23rd 10:00PM
As seen on HBO's "Crashing," The Grisly Pear is one of the hottest up-and-coming comedy clubs in the city. With New York's biggest names and future stars appearing every night, the Pear is sure to bring you a great lineup of comics that you've seen on Comedy Central, Tru TV, and MTV.