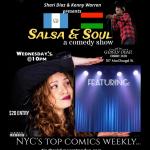 BUY TICKETS
Wednesday December 18th 10:00PM
Shari Diaz and Kenny Warren present Salsa and Soul, a comedy show ft. New York's Hottest Comics.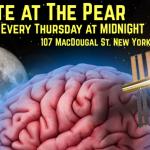 BUY TICKETS
Thursday December 26th 11:59PM
Late Nite at the Pear is unique in that it allows audience and comedians alike to debase themselves under the shroud of midnight in the warm arms of alcohol and laughter. Together, after midnight, we can share love, laughs, tears, and most importantly, alcohol, during a curated onslaught of some of the best up-and-coming talent in NYC.