Pedro Gonzalez
Pedro is a zero generation immigrant, which means he came to the U.S. with zero English and zero money, but dreaming of big things. He wanted to be a serious writer until he stumbled into stand up. Pedro has showcased for Stand up NBC, NACA and is currently a Finalist of the 2018 New York Comedy Club Competition and the 2018 New York Funniest contest.
BUY TICKETS
Saturday February 29th 04:00PM
As seen on HBO's "Crashing," The Grisly Pear is one of the hottest up-and-coming comedy clubs in the city. With New York's biggest names and future stars appearing every night, the Pear is sure to bring you a great lineup of comics that you've seen on Comedy Central, Tru TV, and MTV.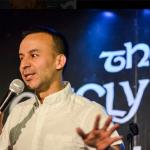 BUY TICKETS
Saturday February 29th 08:00PM
Grisly Pear Comedy Club AKA The Dojo presents Comedy Showcase Night on the famous Macdougal Street. Every night has unique lineup of New York's hardworking premier comics and very special drop ins, as seen on Late Night, HBO, Comedy Central, MTV, NBC, and more!