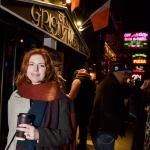 BUY TICKETS
Monday August 19th 10:00PM
The Hobocop Comedy Show at The Grisly Pear has been hailed as the best new comedy show in town on the worst day of the week! Each show features top NYC comedians from Late Night, MTV, HBO, NBC, and more! One drink minimum, and amazing specials all night.
BUY TICKETS
Wednesday August 28th 11:45PM
Grisly Pear Comedy Club AKA The Dojo presents Comedy Showcase Night on the famous Macdougal Street. Every night has unique lineup of New York's hardworking premier comics and very special drop ins, as seen on Late Night, HBO, Comedy Central, MTV, NBC, and more!